HYPERTALK IS AN EASY-TO-NAVIGATE INTERFACE, SO THE USERS FEEL COMFORTABLE AND IN CONTROL WHEN THEY MOVE THROUGH THE PLATFORM.
Access it as a standard, commercialized solution to all your needs or choose a specific, vertical solution designed for your sector of activity.
Hypertalk, one video conferencing platform for all your needs:
Web Meetings
Target public: individuals, small and mid-sized businesses, or large enterprises.
Purpose: a higher degree of interaction, teamwork projects, mentoring sessions, seminars, smaller groups of people.
Multi-point HD video
Conferencing
IM features
Web presence
Resource and application sharing
Advanced interaction tools
Whiteboard
Virtual library
Mobile access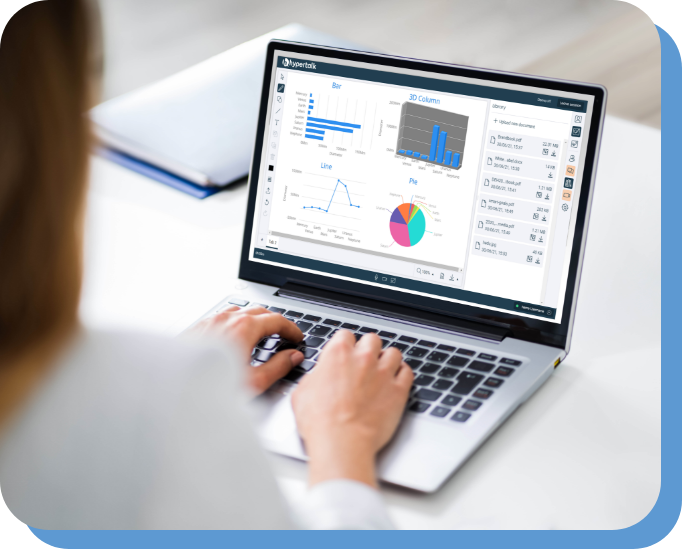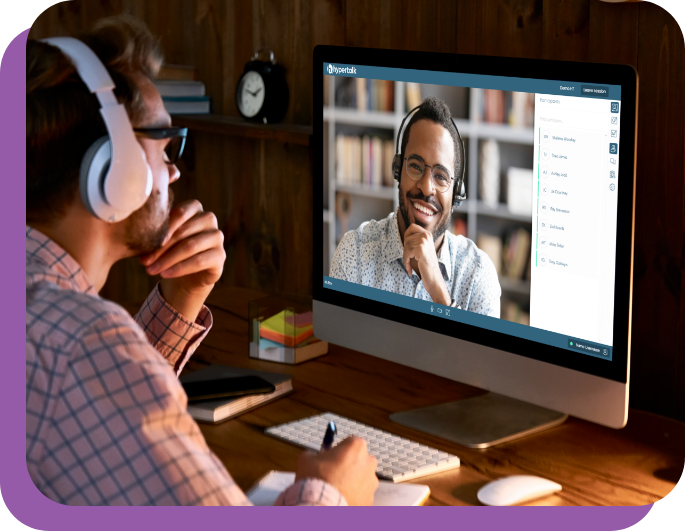 Live Event
Target public: individuals, small and mid-sized businesses, or large enterprises.
Purpose: larger events with multiple sessions, courses, conferences, various occasions with a higher audience, wider reach.
Session management
Multi-point video communication
Q&A
Feedback and polling
Real-time statistics
Content sharing or BYOD
Whiteboard
Virtual library
Mobile access
Webinar
Target public: suitable for any industry, individuals, small and mid-sized businesses, or large enterprises
Purpose: on-demand, online events, focus on end-user, high-impact content, greater audience, less interaction, Q&A based
Wide virtual classroom
Attendance management
HD video link for both presenter and panelists
Q&A
Feedback and polling
Real-time statistics
Whiteboard
Mobile access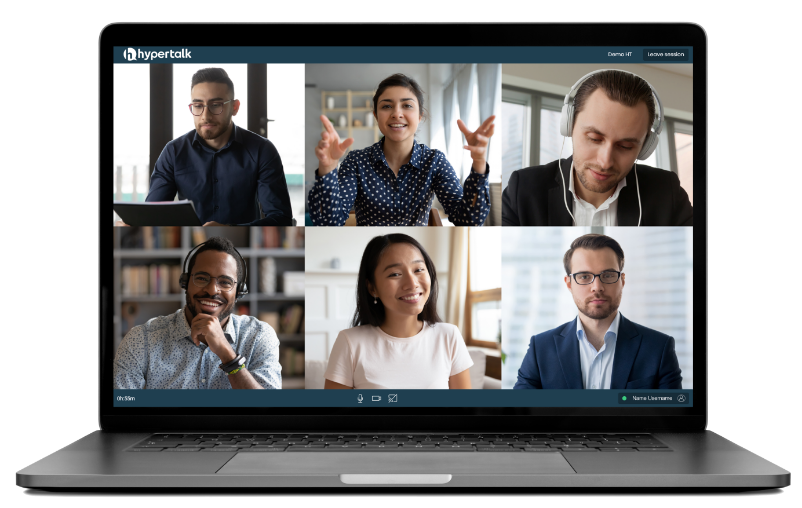 VERTICAL SOLUTIONS
Communication is the core of any activity. Our tailored solutions match specific sectors such as Education, Healthcare, Human Resources, and Customer Care.
Hypertalk Education
brings together teachers and students with the common goal of building knowledge through a collaborative learning concept. Users are brought outside the classrooms to explore the benefits of valued-added educational content:
Hands-on activities that reduce retention time
Multimedia learning objects
Hybrid classroom
Virtual library
Online assessment components
Virtual labs and PBL instruments
Faster delivery of classes
Time-saving
Teachers can reach all the categories of students: hard-to-reach students, excluded, with health issues, with poor attendance or special needs.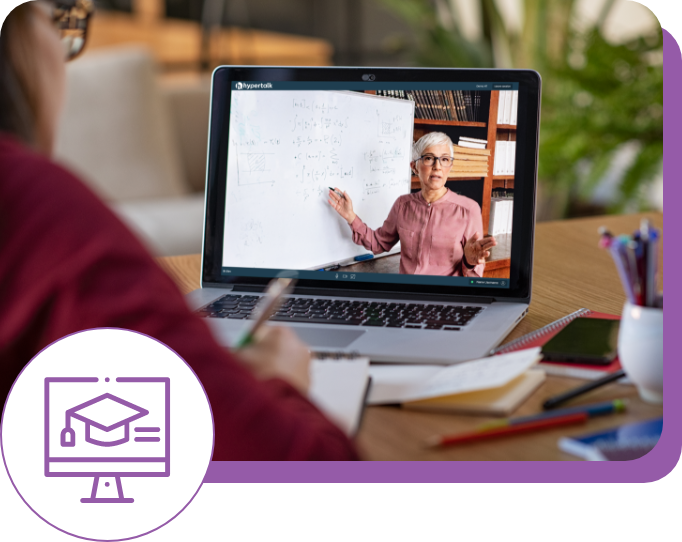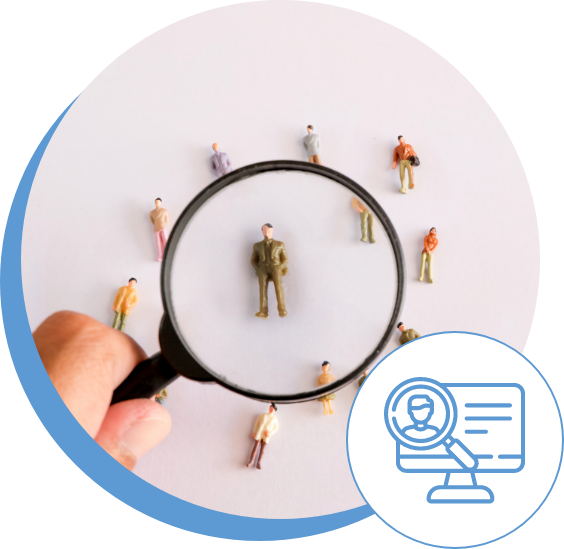 Hypercareers
represents a recruiting platform that can be easily integrated into any business entity website, based on the owner's preferences. Its infrastructure for online interviews has a video-collaboration component that helps companies innovate their HR techniques and be accessible to any candidate offering:
Job openings
Online assessment
Live interview
Shortlist with the best
Candidates
Résumé management
HyperTalk MedDesk
is a solution adapted to boost both the medical and veterinary fields. MedDesk offers a more comfortable approach to seeking healthcare; it reimagines the patient's visit to the doctor by eliminating the travel part. This video-collaboration tool can be deployed across various specialties at a distance of a click and offers:
Quick reaction and solution to any issue on the first call
Customized protocols (guidelines that target specific situations of the patient's health issues)
Efficient call handling, faster processing
Access to the patient's history and reports
Increased access to healthcare
Enhances traditional face-to-face medicine
Better management of the clinical process
Live assistance
Transparency on doctor's activity (number of calls taken, duration, etc.)
Reduces the number of hospital visits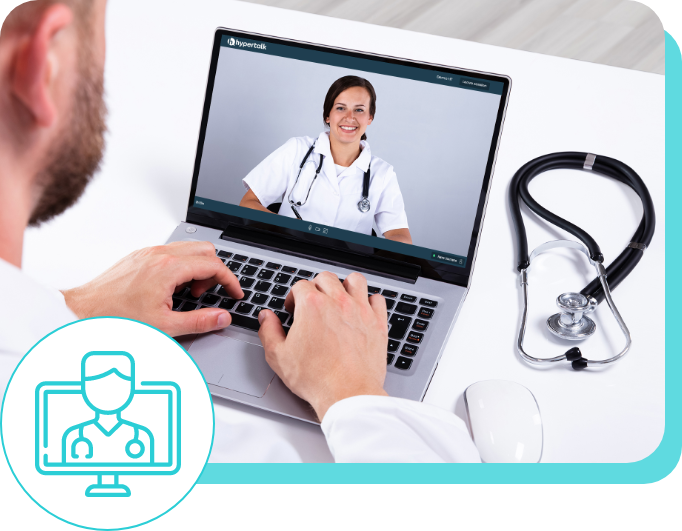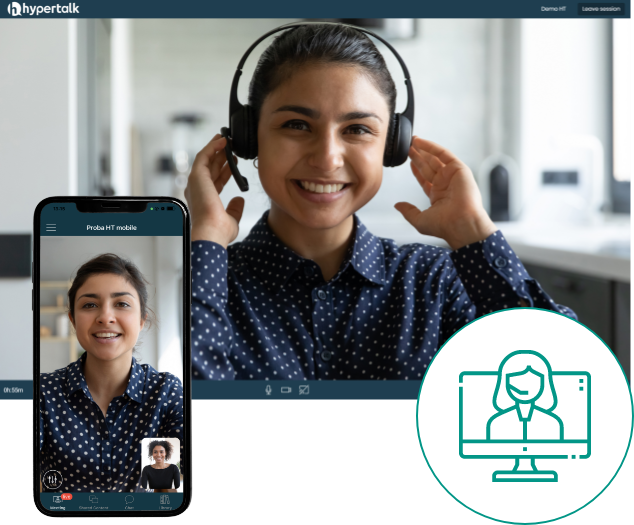 HyperTalk HelpDesk
addresses the technical aspects of a business by allowing the customers to get directly in touch with the person in charge, face-to-face, whenever they have a request or question related to a certain product. By integrating this service into the company ecosystem, the business representatives streamline the customers' web experience with the company and bring many advantages such as:
Efficient call handling
Live assistance
Immediate access to specialists
Queue management
Implementation of protocols and guidelines
Reports and statistics
Meet your goals with Hypertalk
Need your custom tailored solution? Want to talk to an expert?